Expanding your capabilities and reduce your costs with eNest virtual staffing certified AWS, Microsoft, and Google Cloud Engineers.
Decrease time to market and the costs associated with vetting, hiring, HR benefits. We provide remote engineers who work as a seamlessly integrated part of your organization.
To get your Remote Staffing
Industry leading companies have certified eNest




IT Staffing Solutions

to Meet Any Need
Bridging the gap between your identified staffing requirements and your actual payroll is not as complicated as it may seem. With eNest, there's no need to pay for posting job listings, conducting extensive interviews, or making space in a crowded office for another staffer. Our remote staffers support your business in the same way as an internal team member but with some distinct advantages.
Instantly address shortcomings or weaknesses in your current team. For example, do you need a few proficient .NET developers to consult and work with the team to address ongoing concerns? Finding the right individuals can be challenging. With eNest, you'll have access to engineers ready to be a part of your team within days.
Generate payroll savings and redirect resources to other areas of the business that may need them more. Our highly cost-effective staffing solutions clearly define hourly rates to do your planning and budgeting an easier undertaking.
Gain valuable support to keep your team on track. Are your internal engineers ready to proceed with a major project, you lack the support necessary to keep other processes in good shape while the main team proceeds? Staff up with eNest and keep your base-level processes running while putting your  expertise back to work on other projects.
Fill Your
C-Suite

with Expertise
Does your business have an experienced hand at the helm in mission-critical roles such as Chief Technical Officer or Chief Security Officer? Your C-Suite should include roles that develop and refine a clear vision for your company's technological progress while safeguarding your current position. Finding the right individuals to fill these positions, however, is seldom easy – until now.
At eNest, we rapidly respond to our clients' needs to fill these roles with highly trained and experienced individuals who possess hands-on, real-world knowledge. We're highly adept at applying best practices in any of the following roles.
"Does my business need a Chief Technical Officer?" If you find yourself pondering this question, you likely already know the answer – yes! An experienced CTO is vital for identifying methods and opportunities for taking your existing products and customer experiences and enhancing them for a better experience and, ultimately, improved ROI.
While your developers and IT staff put in the work to develop and maintain your product, your CTO acts as an industry "lookout" – searching for and identifying the technological trends that may impact your business and improve its capabilities. Your eNest CTO takes a broad view of the organization's technologies and identifies investment opportunities to improve its standing. In other words, the CTO is a "big picture" role tasked with successfully steering your business's efforts to innovate by absorbing new technologies. With a hand-picked individual ready to become highly familiar with your organization, eNest helps fill this crucial role.
Many confuse the CTO role with the CIO or Chief Information Officer, but there are important distinctions between them. CIOs set the tone for a company's strategy for using technology effectively. Your CIO may contribute to setting long-term goals and performance milestones while also working internally to identify how to serve your users for enhanced productivity better. While the CTO looks ahead to the future, the CIO answers the question "How do we do better right now?"
eNest wants to answer that question with your business, too. Is your IT department adrift? Do you lack a coherent strategy for using your existing tools and technologies to claim more market share and beat back the competition? We staff CIOs who integrate fully with your team, embracing and understanding your vision to determine how to expand it for the future.
A Chief Security Officer, or CSO, is of the utmost importance in today's advanced threat landscape. With ransomware on the rise, enhanced risks from phishing, and the general presence of millions of unique malware types, businesses must make technological security a priority. Your CSO's role includes continuity planning, physical security considerations, and keeping your digital infrastructure safe and secure. By interacting with the rest of the C-Suite, the CSO becomes an integral part of a unified strategy for making the best use of technology.
When you require a virtual CSO, eNest provides individuals with a broad degree of professional experience in relevant roles. After conducting an in-depth review of your existing procedures, your CSO may suggest changes and improvements while playing an active and regular role in the business's overall strategic direction. Managing risk in the modern economy is not always a simple task, but it becomes much easier when you can quickly add this valued role to your executive lineup.
Acquire Industry Expertise

for Your Business
Turning to an outside resource to staff your IT department or C-Suite often comes with many concerns. At eNest, we work tirelessly to address these issues by delivering service that is transparent and accountable. We promise you'll always receive support from staffers your business can trust.
We only connect your company with virtual staffers who already have years of experience within the appropriate technology or methodology. We don't believe you should need to conduct additional training or worry about their capabilities; we've carefully selected only the best to support your needs.
Ease of access and availability. Worried you won't be able to reach your remote staffers at a critical moment? Don't worry – we're completely capable of working at a global scale, providing access during the hours you need help the most. We can sit in your daily meetings, check-in via your preferred communication platform, and work within a various of management frameworks.
Clear and open communication backed up by confidentiality. Our staffers work as a fully integrated part of your business, conforming to your expectations and company culture, all while respecting the secrets of your business. We provide robust non-disclosure agreements to keep your trade secrets safe.
Make changes the moment you identify a concern. We always select the best individuals for the job, but as circumstances change, so as our staffing needs. eNest understands how to respond to these new needs with versatile staffing procedures.
Scaling

with eNest Made Easy
What happens if you identify a need for additional staffing resources a week, a month, or even a year into using our virtual staffing resources? When you need to augment your remote support staff further, we make it easy to do so. Simply request the extra help you require and layout your specifications, and we will identify another talented engineer or group of engineers to join your team. Should you need to scale back down after a high-volume period or resolve a unique challenge, we don't lock clients into draconian contracts with obscure terms.
Find Out How to
Meet Staffing Needs with Agility
Virtual staffing is a modern solution to an age-old problem – finding enough qualified help at the right price. With eNest on your side, we aid your business in scaling to new heights quickly and intelligently. Contact us today to discover more about what we can achieve together through remote staffing.
Onboard Virtual Staffers in as Little as Two Days to Two Weeks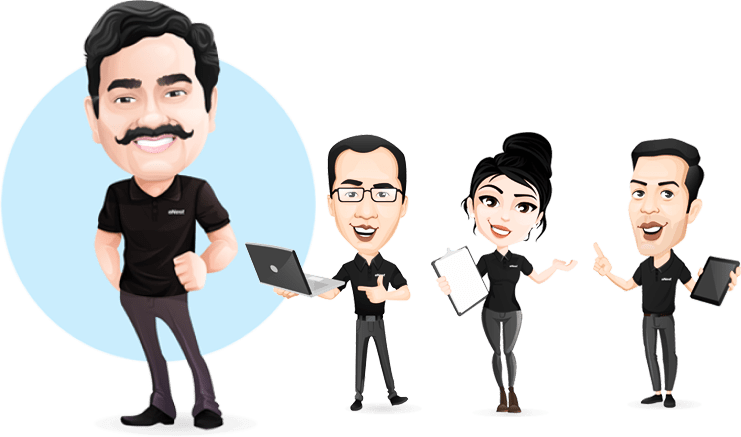 Let's Get to Know Your Goals and Apply A Scaling Strategy Together!
Our simple intake process enable us to provide you a quote for a fixed priced developer, dedicated team, or an action plan to ensure success.